First things first….Some clarification on exactly who we are.
The Stehekin Ferry started a new passenger service on Lake Chelan in 2020. Our goal is to provide comfortable, consistent, and friendly service to those who travel on Lake Chelan.
We are not connected to the long standing Lake Chelan Boat Company. While their boats are based in Chelan, our operation is based on the upper end of the lake in Stehekin. Our boats run on the opposite schedule, offering a perfect fit for those traveling long distances to reach Lake Chelan.
Keep reading to learn more about our boats, our operation, and the dream of a Stehekin-based passenger ferry that we have finally made a reality.
The Fleet
We run composite catamarans in our passenger fleet. We have found that this design is ideal for creating a smooth and efficient ride, even in choppy conditions. The sleek design cuts through the water and produces very little wake. We are all about comfort for our passengers as well, and all our boats have leather airline seats with generous leg room. For more about our specific boats, read on…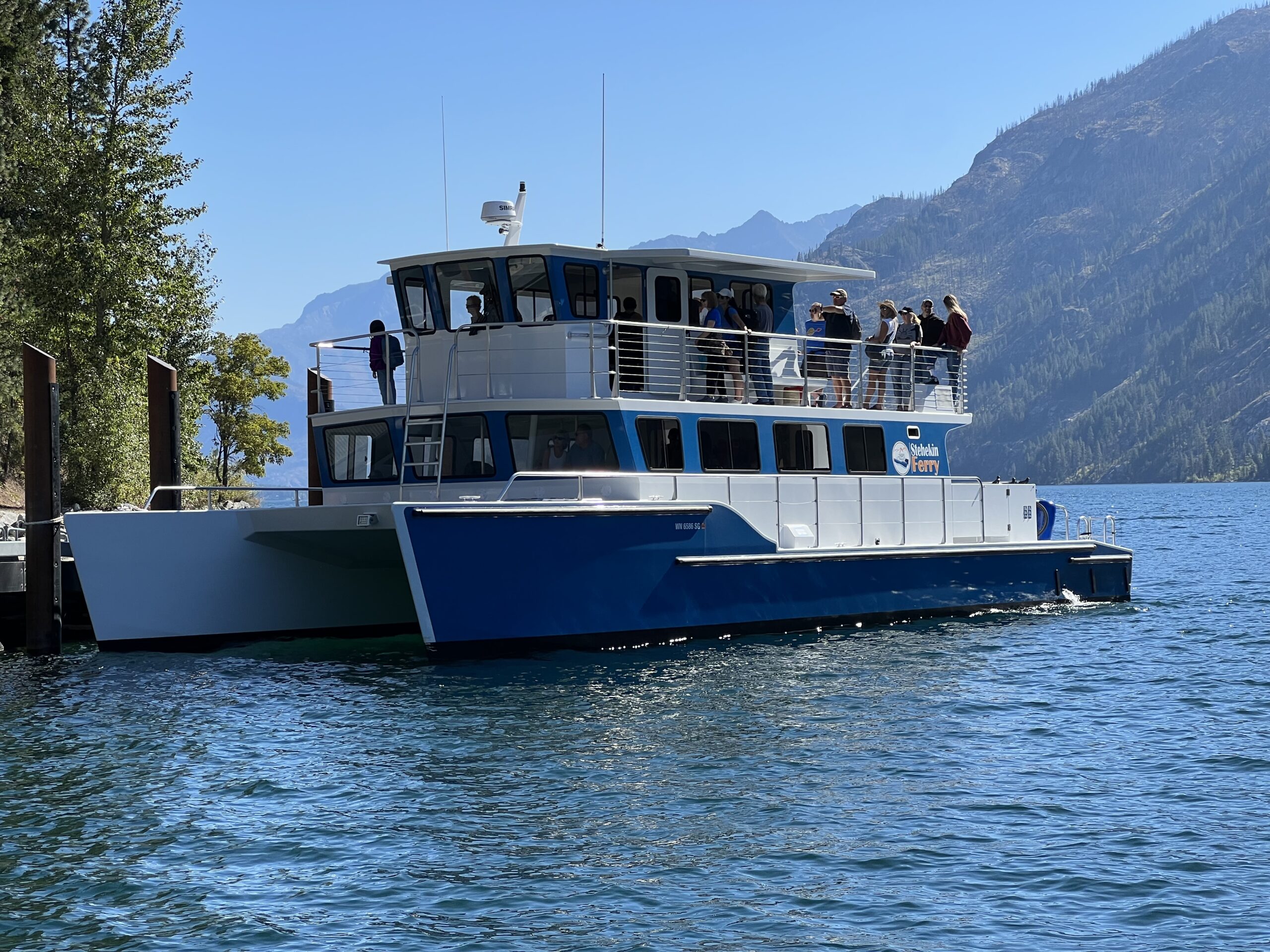 The Latest Addition to the Fleet: The Stehekin Clipper has been designed to be the next level of comfort and efficiency for travelling on Lake Chelan. It has an overall length of 58′ and has 2 passenger decks. With ample outdoor seating along with the comfortable airline seats inside, the Clipper can handle 50+ people with ease. Take in the views from the upper deck, or relax inside. As with all our vessels, the Clipper has complementary non-alcoholic drinks as well as a snack bar. We look forward to taking you where you need to go on this new beauty!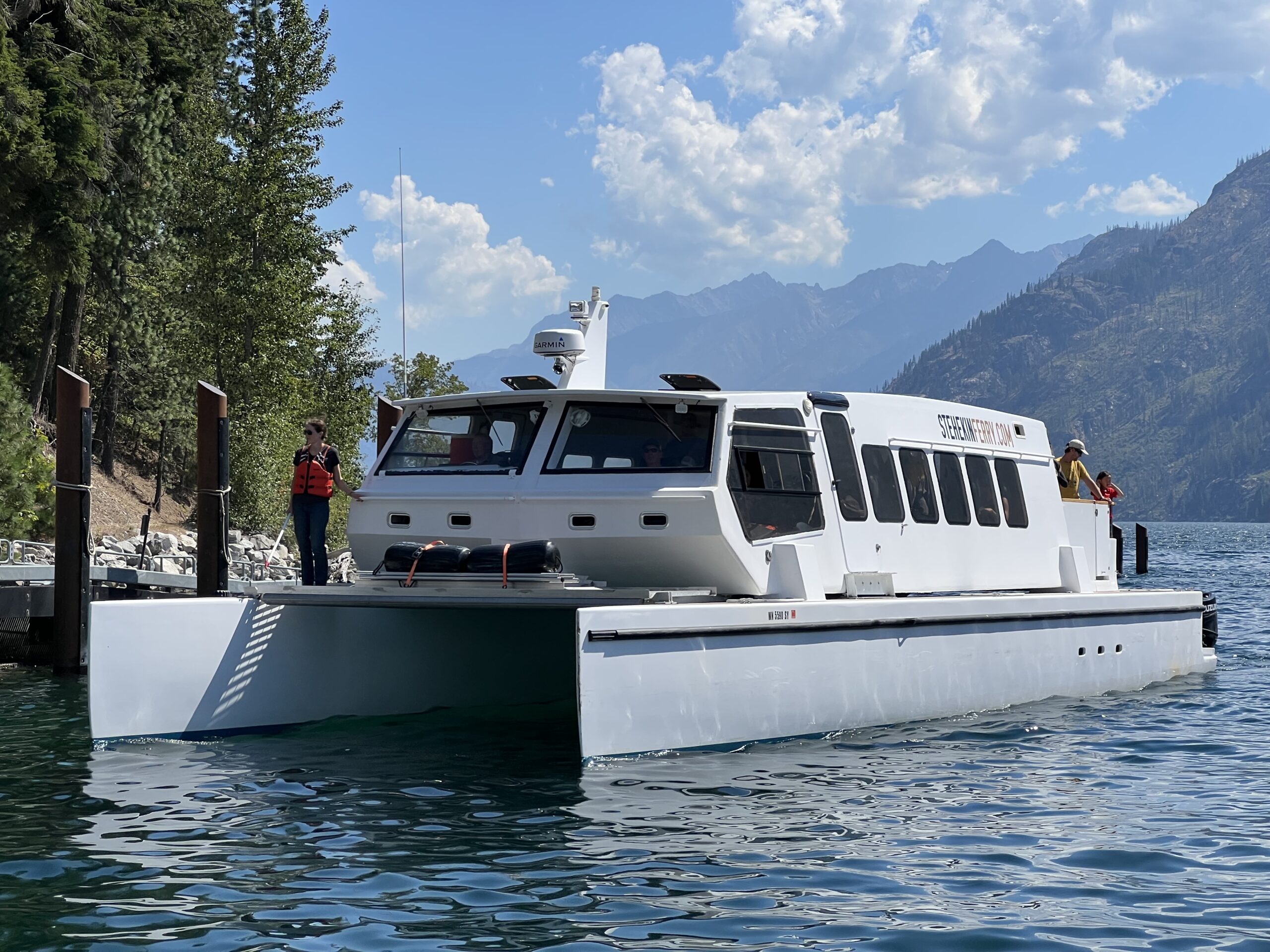 The Sunny Jo is a 32-passenger catamaran, and the first vessel to be christened into the Stehekin Ferry fleet. Its sleek 57′ design has proven itself to be efficient and smooth – even on windy days. The interior seating for 34 combined with additional seating on the back deck (which is a great place to ride on sunny days) allow for folks to spread out comfortably – even on busy days. A  snack bar with complimentary non-alcoholic drinks is just one more pleasant addition – you're sure to find everything you need to enjoy your trip on Lake Chelan!
…begins in a unique mountain community called Stehekin. Located on the north end of Lake Chelan, Stehekin, WA is an outdoor enthusiasts dream. The only catch? You can't drive there.
The good news is – now you can ride with us!
For years there was only one passenger ferry service on Lake Chelan. Folks made do with what was available, but there was one important need which wasn't being met. All of the ferry schedules left Chelan in the morning and returned there in the afternoon or evening. There was a large demand for a boat traveling on the opposite schedule. There were also gaps in service during the winter, with the boat running only 3 days a week.
The dream of a Stehekin based daily ferry was born. Cliff Courtney worked for years to find a legal way to break the state mandated monopoly for passenger ferry service on Lake Chelan, and provide the schedule and consistent year round service that was so badly needed here. Eventually Cliff's sons Colter and Logan decided to make a run at getting a second certificate from the regulatory agency. It was not an easy process, but with much support from the Stehekin community and others who travel repeatedly on Lake Chelan, they were finally granted that precious certificate.
It took decades to make that original dream a reality, but in 2020 the first Stehekin Ferry vessel started taking passengers to their destinations on Lake Chelan.
Our schedule departs Stehekin in the morning, arriving at Field's Point Landing mid-day. It picks up folks there at 1pm, returning to Stehekin by mid-afternoon. This schedule works perfectly for those spending a night or more in Stehekin. They can drive to and from Field's Point in daylight, and arrive in Stehekin in plenty of time to settle in before dinner. We provide daily service – even in the winter! 
We are so happy to be able to operate and share this wonderful area with you! We look forward to seeing you on the lake!